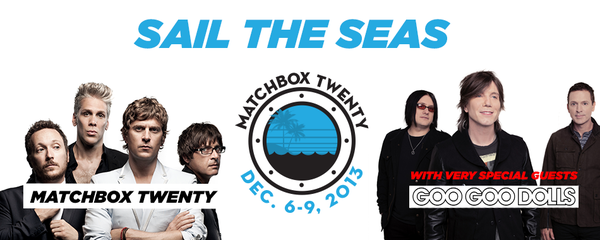 MB20 Cruise Q&A
Do you have questions about the upcoming Matchbox Twenty Cruise with Goo Goo Dolls? Get your answers below:
Are there going to be any excursions with the guys?
Nassau will be a free day to enjoy the island.

Will parts of the cruise be filmed/uploaded to socials for fans who are unable to attend?
Photos & short video clips from the cruise will be uploaded to socials for fans to follow the event.

When will an itinerary be released?
The full itinerary will be emailed about two weeks prior to the cruise with Carnival booking numbers. Guests will be able to book excursions at this time.

Looking forward to the released itinerary, any shows on land?
The day in Nassau will be free time to enjoy everything the Island has to offer. There will be many shows all weekend long in various venues on board.

How many concerts will you be playing on board?
All guests get two concerts each from Matchbox Twenty & Goo Goo Dolls- 1 full show from each band in the intimate on board theatre, and 1 full show from each band on the open-air deck. They will also get a unique songwriters session, where the band will talk about some of their songs, how they wrote them and play them acoustically. This is a one of a kind event that the band has not done before! There will also be a fun party band and all the entertainment Carnival has to offer as well. Comedians, live band karaoke, a dance club, Casino and much more.

What can be expected during the MB20 Cruise?
You can expect to have the time of your life! Your days and nights will be packed with Matchbox Twenty activities including concerts, songwriting sessions, Q&A's & photo sessions. The little free time you have will be spent enjoying Carnival's many amenities: spa, casino, pools, hot tubs, dance club, and more. All of your meals will be covered on board. On top of that you will get a free day to enjoy your vacation in Nassau.

Can I use my professional camera at the shows?
Professional cameras cannot be used at the shows.

Is there an individual M&G or is it just a big group picture on the cruise?
The photo sessions will be in groups. Rose Tours will send out more info on the size of the groups.

When are you announcing the fan club cruise winner?
The winner will be announced via the fan club shortly.

I have an album I would like autographed. Will the band be available for autographs?
There is no official autograph session, but while the band is around the ship you are welcome to ask. The band has a busy schedule making sure you have the time of your life. Please understand if they cannot accommodate your request at that time.

How do the seats for the shows work?
All seats in the show room will be assigned. Guests who purchased categories 6E, OB, OS & GS will receive seats within the first 6 rows. All other seats are done by time of booking. Guests who booked sooner will get better seats. The venue fits less than 1,000 guests at a time, and all events are done twice so everyone can attend. It is a very intimate venue. All events on the lido deck will be General Admission.

Will the audio wristbands be available? Will there be official MB20 Cruise merch such as t-shirts, sweaters or hats?
There will be merch available for purchase on board. There will be special Limited Edition Cruise Audio USB wristbands that will be available to purchase exclusively by cruisers. Anyone who purchased a cabin will receive an email with the details in the coming weeks.

Since the entire passenger list won't be able to be seated at one show will every passenger have a scheduled chance to see the show?
Yes all guests are split into groups based on their time of dining. Those who choose early dining are in Group A, those in late dining are in Group B. You will receive a wristband at check-in that tells you which group you are in and what seat you have been assigned to. All events in the show room are done twice, once for Group A & once for Group B. All shows on the open lido deck will be for all guests at once.

Will there be themed nights on the cruise?
Theme nights have not been determined yet. Matchbox Twenty & Rose Tours will advise you if and when any theme nights are decided upon. Don't worry we will give you plenty of time to shop, organize and pack.

How many shows are you guys performing?
Everyone will see 2 full concerts from each band, one in the theater and one on the lido deck. Everyone will also get a Matchbox Twenty Songwriters session. The band will talk about a number of their songs, how they wrote them and will perform them acoustically for you. They may even write one onstage with you!