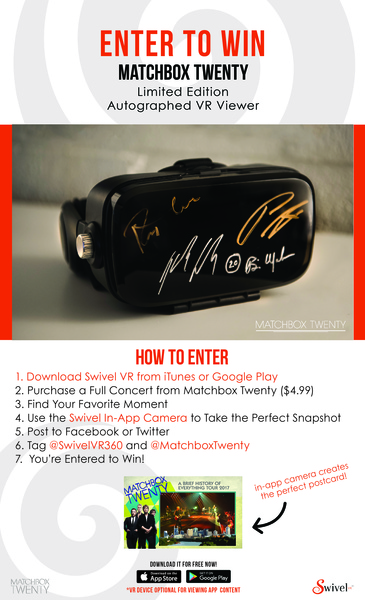 Win a Limited Edition Autographed VR Viewer
Matchbox Twenty and SwivelVR have teamed up to give you a concert experience like you've never seen before. Now they are giving you a chance to win a Limited Edition Matchbox Twenty VR Viewer!
Contest begins tomorrow, July 12.
HOW TO ENTER
1. Download Swivel VR from iTunes or Google Play
2. Purchase a Full Concert from Matchbox Twenty ($4.99)
3. Find your favorite moment
4. Use the Swivel In-App Camera to take the perfect snapshot
5. Post to Facebook ot Twitter
6. Tag @SwivelVR360 and @MatchboxTwenty
7. You're entered to win!