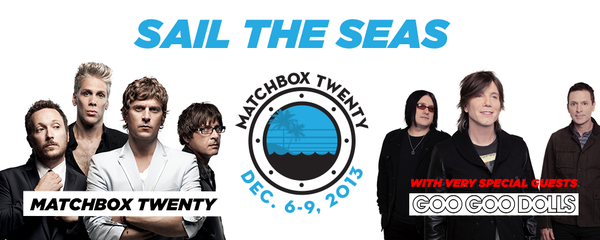 Welcoming Goo Goo Dolls To Join The Matchbox Twenty Cruise
Drumroll please… Our summer tour‬mates will be joining us on the Matchbox Twenty Cruise! You saw that right, the Goo Goo Dolls are coming with us to the Bahamas!

So excited to party with these guys and YOU this December! Book your cabins at http://matchboxtwentycruise.com/
__________________________
MATCHBOX TWENTY WELCOME VERY SPECIAL GUESTS GOO GOO DOLLS TO JOIN THEIR CRUISE;INAUGURAL VOYAGE GETS UNDERWAY DECEMBER 6TH-9TH, SAILING ROUNDTRIP FROM MIAMI TO NASSAU;

Emblem/Atlantic recording group Matchbox Twenty has announced that very special guests the Goo Goo Dolls will join the first- ever "Matchbox Twenty Cruise" aboard the Carnival Imagination. The Grammy-nominated, multi-platinum Goo Goo Dolls are supporting the release of their 10th studio album, Magnetic; new single "Come To Me" is out now. The musical voyage will get underway December 6th-9th, 2013 sailing roundtrip from Miami, Florida to Nassau, Bahamas.

The "Matchbox Twenty Cruise" – chartered by Rose Tours – was unveiled in an exclusive announcement on the multi-platinum rock band's official YouTube channel, matchboxtwentytv. Prices begin at $599 per person (plus taxes). For more details and up-to-the-minute information, please see www.matchboxtwentycruise.com.

The inaugural "Matchbox Twenty Cruise" promises to be an extraordinary experience for fans of the two iconic rock bands, with a wide range of exclusive events highlighted by a series of intimate performances in the Carnival Imagination's 975-seat Dynasty Lounge, as well as in different venues throughout the ship. What's more, Matchbox Twenty & Goo Goo Dolls will be joining guests in a variety of onboard activities, including Q&A sessions, photo opportunities, and Evening Deck Parties where fans and band members can mingle as the Fantasy class cruise ship travels the beautiful blue Atlantic.

Reservations include all meals, coffee, tea, iced tea, and juices, 24-hour complimentary room service and pizzeria, and a one-hour open bar cocktail party. Guests will of course receive full access to all the Carnival Imagination has to offer, from its newly renovated spa and many delicious dining options to the El Dorado Casino and the famed Carnival WaterWorks water slide. Additional events, activities and musical guests will be revealed in the coming weeks – please see www.matchboxtwentycruise.com.

Matchbox Twenty and Goo Goo Dolls are currently in the middle of one of this Summer's biggest co-headline tours. The Hollywood Reporter raved "Two pop-rock giants combine forces, bringing a Gen Xer's dream radio station to life." Tickets still remain for selected dates through August 22nd. More information on the summer tour can be found at www.matchboxtwenty.com or www.googoodolls.com.