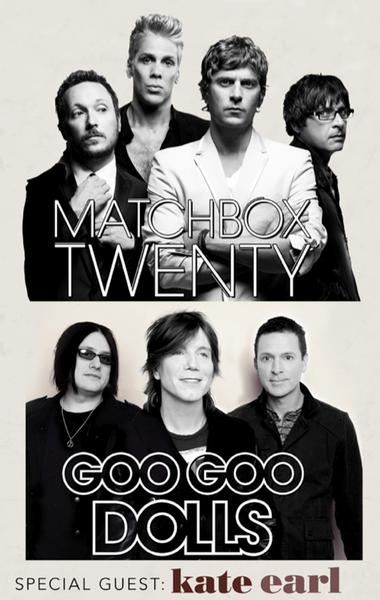 Fan Club Exclusive Pre-Sale: Orillia, ON
Hello Ontario!

On Tuesday - July 2nd at 10am local venue time - There will be a fan club exclusive pre-sale for a newly announced date on the Matchbox Twenty & Goo Goo Dolls Summer Tour.

As always, because you're a fan club member - you get first access to pre-sale tickets.

Click the link below for purchase links & more details:
8/26/13 - Orillia, ON @ Casino Rama
You will need this code to access the pre-sale tickets. Fan club members will receive their pre-sale code via email on Monday 7/1. Make sure you are a member of the Matchbox Twenty fan club by 6pm PT on Monday 7/1 to ensure you get a code in your inbox.
Matchbox Twenty Diamond Ticket Packages will also be available for purchase for othis show. Items in this special upgraded package include:
One Premium Reserved or General Admission Ticket
Admission to the VIP Hospitality Room
One Matchbox Twenty Water Bottle
One Matchbox Twenty Tour Program
One Matchbox Twenty Draw String Backpack
One Pair of Matchbox Twenty Sunglasses
One Matchbox Twenty Towel
One Commemorative Matchbox Twenty USB Wristband
BONUS: Over the course of the tour 10 random Diamond Ticket Package purchasers will be selected to participate in soundcheck parties.